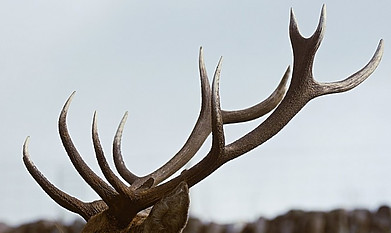 This past month I tried out Caribou Coffee from Amazon. I ordered their regular medium-roast coffee, their Chocolate Wonder mocha-flavored coffee and their Caramel Hideaway caramel-flavored coffee. I bought all of these already ground (I was extra busy so needed something quick).
Caramel Flavored Coffee
The first thing I noticed was the strong aroma of caramel with this Caribou coffee. It smelled wonderful! Yet when I brewed and tasted in with my Mr. Coffee Cafe Cappuccino maker, I noticed immediately the fake flavoring taste – it's not natural caramel, but imitation flavor added to the grounds. Though it smells wonderful, the taste has that chemical fake-flavor quality, which I hate. But I'd already bought it, so I've been drinking it over the past month, usually adding my caramel-flavored stevia (which is delicious) to give it extra caramel. Sometimes I added my English Toffee-flavored stevia, but for some reason that one didn't mix well with the imitation caramel flavor in the grounds.
I found myself avoiding this one generally, opting almost every morning for the regular Caribou Coffee so I could get that natural, unadulterated coffee taste.
Mocha Coffee
The same thing happened with the mocha-flavored Caribou Coffee. The almost overwhelming delicious scent of chocolate wafts from the packaging and the grounds, but when you drink it you get that awful chemically imitation-chocolate mocha. Not good. I finally discovered, though, that this does work with my cinnamon-flavored stevia – then it's like Mexican Mocha, and that one tasted pretty good. Overall, though, I found myself reaching for the regular unflavored Caribou Coffee so I could enjoy the non-chemical pure coffee taste.
Iced Mocha Coffee
Since it's still winter-like weather here in Colorado (in April and May), I've been drinking my mocha and caramel flavored coffee hot, but in hot weather it would be easy to add ice and have iced mocha or caramel coffee. Make it extra-rich with whole cream or half-and-half or coconut creamer.
Caribou Coffee
The regular non-fake-flavored Medium Roast Caribou Coffee is actually very good. Not too strong nor too light, this one was just right. I've learned from this experience to flavor my coffee AFTER it's brewed – with coffee syrups, flavored stevia, herbal teas, even regular flavoring used for baking (try a dash of pure almond flavor) – see below for recipe ideas. If I really want a true mocha, I can add some ground cocoa to the coffee grounds before brewing. Or I can add Hershey's Chocolate Syrup to it afterwards for sweetening and flavoring. This is the way to go for adventures in coffee flavors.
Caribou Coffee from Amazon
It's easy to order coffee from Amazon.com, and each time I order I try something new. Caribou coffee is good – the pure, unadulterated coffee (no flavors added).
Caribou Coffee I recommend: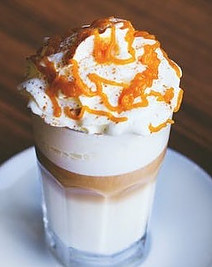 Medium Roast
Daybreak Morning Blend Light Roast
Mahogany Dark Roast
French Roast
Real Inspiration Espresso Roast
Caribou Coffee I DO NOT recommend:
Caramel Hideaway Flavored Coffee
Chocolate Wonder Mocha Flavored Coffee
Flavored Vanilla Hazelnut Dreamstate
Any other Caribou flavored coffees
Coffee Recipe Ideas for Adventurous Flavors
For my newly-discovered Herbal Coffees (with flavors ranging from Honey-Vanilla to Lavender-Lemon), see this post.
For flavors which are also sweeteners, use coffee flavor syrups (try Toasted Marshmallow, Almond or Lavender) – there are so many options you can play. Avoid fruit-flavored syrups, unless it's berry (blueberry coffee is delicious).
For non-sugar flavors which are also sweeteners, there are a wide variety of flavored liquid stevia that are delicious. Only if you're okay with stevia in your coffee, my BFF cannot stand stevia in coffee. The trick is to not put in too much – one drop too much and you get that bitter stevia after-taste.
For a more subtle but pure flavor, put ground mocha or cinnamon (or both) into your coffee grounds before brewing. You can also add a sprinkle of cinnamon, nutmeg, allspice, pumpkin spice or chili powder on top of your coffee. Mocha with a sprinkle of chili powder is a true Aztec coffee – yum.
In the evening when you're ready to relax, use alcohol to flavor, sweeten and give your coffee an extra kick – I've made my own Lavender, Strawberry and Cranberry Liquors, or Anise Liquor; the traditional Irish Cream or whiskey or bourbon, of course, is wonderful.
For more links and ideas, try:
Hi, I'm Jerilyn
and I started drinking coffee in my 30s – right when I decided to give up my sugar vice, so I added a new vice – coffee – as a substitute. My strength of will didn't last real long, however, and soon I had simply gained the new vice, adding it to the old. Still, when going sugar-free (which I do on a somewhat regular basis), drinking coffee is a great way to help make it through and satisfy my sweet tooth with sugar-free sweetening and flavor options. I don't mind stevia in my coffee and love experimenting with all the available flavors. I like experimenting with adding baking flavorings to my coffee – like a dash of almond or Mexican Vanilla, or coconut or maple. Blueberry or Lavender tea bags make a great way to add a sugar-free flavor to my coffee (with which I can use plain stevia for sweetening). This past year (2018) I even made my own Lavender, Strawberry and Cranberry Liquors, just to put in my coffee of an evening. In the past I've made Anise Liquor as well, and homemade Vanilla flavoring.
I became a true coffee snob when I had my first espresso at an Italian restaurant, and I never looked back. Since then I've been brewing my own espressos and cappuccinos at home, there's nothing else like them.
You can find all this and more on this, my coffee blog, and more on me as an author at my author site: www.jerilynwinstead.com.