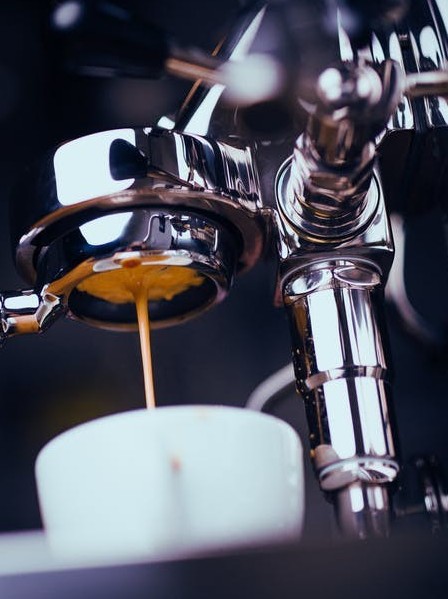 Nothing starts your day better than a perfectly smooth, rich espresso or cappuccino. If you want one of the best espresso machines for home use, here are several to consider. Espresso machines can go super-high in price, as we know, so the ones here are in affordable ranges – starting with the best espresso machine for $600, to some almost-as-good espresso machines for home use under $200 and under $100. You can find the one that best fits your budget.
I've done my online research and these machines came on top out of ten machines and eighty hours of testing. Keep in mind that if you go for something super cheap, like less than $50, you're going to get a machine that works the same as a moka pot – making strong coffee, but not a true pulled espresso shot.
The Best Espresso Machine 2019: Breville Barista Express
This is the around-$600 model, but look at what it does to achieve the ultimate espresso: it automatically grinds the beans for each shot, it doses the grounds directly into its portafilter, and it has a decent milk frother. This machine is larger (13.25″ x 12.5″ x 15.75″) and looks like a professional machine at Starbucks. It doses a higher 9-22 g of ground coffee instead of the weaker 11-13g that other home machines do – this makes it taste like the shots you get at cafes. It has a grind size dial and monitors precise pressure and temperature at the right moment to make the best shot of espresso.
This machine has over 2,400 reviews on Amazon with 73% five-star ratings – people really LOVE this unit. But with the few bad reviews (10% 1-star), some of it was due to the burr coffee grinder component breaking, and the customer service at Breville is so bad it's practically non-existent in the reviewers' experience. So it may be that on a few models the grinder doesn't last long – maybe buying an espresso machine without this feature (and grinding your beans yourself) is the best way to go. One reviewer did finally get a replacement machine from Breville, and the new machine worked so much better overall he believes the first one was just faulty all through.
Another negative review mentioned it only lasted about two years. Another said the machine is inconsistent with the quality of its shots. But again, 73% gave five-star reviews with lots of tips and details and they love this machine for home use.
NOTE: Breville makes a stand-alone burr coffee grinder that works amazingly well – the Breville Smart Grinder Pro. It's $180, however. If you get your own grinder, make sure it is a burr grinder – those grind the best grounds.
The Breville Barista Express BES870XL is found on Amazon.com
Best Espresso Machine for Home Use under $200: Cuisinart EM-100
It's interesting that this one, second only to the Breville Barista Express, is a third of the cost. The Cuisinart EM-100 is smaller at 12.6″L x 8.2″W x 11″H. This one won't grind your beans for you, but its powerful enough to brew espresso from even fine grounds. This espresso machine has a milk frothing arm and a built-in cup warmer – not bad. You won't find these pulled shots quite as strong and perfect as the Breville one, but this affordable model came in second. I'd say this is an excellent value for the price.
On the Best Buy site there are only thirteen reviews, but they are 54% five-star, 23% 4-star and 23% 1-star. One complaint is that the machine is very loud. Also, one customer went through two units with both having significant functioning issues – Cuisinart admits that they've had some recent quality issues with some of these units.
The high reviewers love the machine, it's affordable and tasty, though considered a basic espresso machine.
You can find the Cuisinart EM-100 at Best Buy.
Best Espresso Machine for Home Use Under $100: Mr. Coffee ECMP50
If you're on a tight budget, this is the espresso machine for you. Though the flavor isn't quite as strong or smooth as the Breville or the Cuisinart, it still pulls beautiful shots full of flavor with good crema. The frothing wand is a bit short for frothing, however, and this unit does not come with an included milk frother pitcher (unlike the others) – but again, a small milk frothing pitcher is an inexpensive accessory and you can get one at Amazon (or even use any little pitcher you have on hand – if it's not metal, you can even pre-warm your milk in the microwave first). This one is 12″L x 11″W x 12.5″H.
The 289 online reviews are mostly five stars (157), but the few lower ratings (33 1-star) are because this machine is said to last only about 1.5-2 years in general.
The Mr. Coffee ECMP50 can be found at Walmart.com.
Other Espresso Machines for Home Use
These are the machines tested that didn't make the cut for the top three of 2019:
Mr. Coffee Cafe Barista (though this is the one I use and I LOVE it – especially the milk container that heats and froths your milk of choice.
Mr. Coffee Cafe 20-oz Steam Automatic
Mr. Coffee Four-Cup Steam Espresso System
Aicook 3.5Bar Espresso Coffee Maker
DeLonghi EC702
DeLonghi EC155
DeLonghi EC3420
Capresso Four-Cup Espresso & Cappuccino Machine
Brentwood GA-125 Espresso and Cappuccino Maker
Imusa Four-Cup Electric Espresso & Cappuccino Maker
Conclusion
For the best espresso machine for home use, there are so many options, but this tried and tested short list gives you the best of 2019 (and I'd include the Mr. Coffee Cafe Barista as a fourth option). I suggest you get the most expensive one you can buy, as the higher the price the higher the quality of the espresso shots – and you'll notice the difference in taste and texture. It seems, in my experience and of other reviewers, that most espresso machines for home use last around two years – even these here. If you've had a machine last longer than that, please comment below – I'd love to see if there's one that actually goes the long haul.