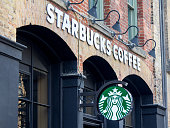 Many of us have learned the amazing benefits of going off sugar and are following various eating and diet plans which reduce or eliminate sugar. I have done the Belly Fat Cure, the Keto diet and am now following the Paleo eating plan. Yet I love my Starbucks! Here are the best sugar free Starbucks drinks – yes we can diet and enjoy our Starbucks, too.
Truly Sugar Free Starbucks Coffee
Sometimes I'm more strict than others. If you need absolutely no or the lowest amount of sugar, try these. I say lowest, because Starbucks' nut milks (and regular cow's milk) have some sugar in them, some up to 9 grams per serving.
For a Starbucks coffee with no/low sugar, ask for the Ristretto Latte. You can get the ristretto in other forms, too, like espresso. I prefer the latte.
Ristretto is Italian for "restricted." The barista pulls the shot for a smaller amount than a full espresso. It's a short, or restricted, shot of espresso using less water. So you get a smaller, more concentrated flavor that is sweeter and richer (as in, not bitter).
Ristretto drinks are light enough that you do not need any sugar to sweeten them. I have a sweet tooth, so I get mine as a latte with half almond milk and half soy milk – these provide enough sweetness.
Another new option they have is the Blond Cappuccino. It also is smooth enough you can enjoy it without any syrups or sweeteners added. You can get the Blond espresso shot in any drink to make it lighter and more naturally sweet.
Sugar Free Starbucks Syrups
It is unfortunate, but in my city Starbucks no longer carries most of their sugar-free syrups. They have maybe one or two. Usually Vanilla Sugar Free Coffee Syrup and Caramel. Sometimes they'll have Cinnamon Dolce instead of Caramel. You will have to ask at your local Starbucks which sugar free syrups they carry.
Note that Dutch Bros has sugar free options for all of their coffees.
Using sugar free coffee syrups is considered a cheat on the paleo diet, so consider if this is allowed on your eating plan or not. I allow myself this cheat once in a while because I love my Starbucks (and Dutch Bros).
This summer the Cascara Cold Foam Brew was the featured flavor. I looked it up on my Starbucks app and saw that they use vanilla syrup in making this (and it doesn't taste very sweet, so maybe they don't use a lot). So when I order it now, I ask them to use the Sugar Free Vanilla Syrup instead.
Today I got the Salted Sweet Cream Cold Foam Brew. I asked for sugar free or low sugar options, and the barista made up some sugar free foam just for me. I usually don't mind a tiny sprinkling of cascara sugar or salted caramel on top.
The lesson is – always ask. The baristas at Starbucks are great at helping you reduce sugar in any of their drinks where's it's possible.
Low Sugar Starbucks Drinks

This summer my friend and I stopped at a Starbucks in Boulder. We wanted the Green Tea Frappuccino, and asked them how to lighten the sugar. The barista told us that the frappuccino base itself has sugar in it, so she suggested that we just hold off on any added syrups. We did that and it was plentifully sweet and delicious. A few weeks later we went in again and discovered that Starbucks have now stopped serving syrups in the Green Tea Frappuccinos. It doesn't need it! But double check when ordering – not all Starbucks are the same.
Try these for something special. I've never found a sugar free Toffee Nut at a Starbucks, so I do the other syrups sugar free and allow that one flavor be full sugar:
Butterbeer Latte: ask for a latte (however you like it with whichever milks). Ask for 1-3 pumps of Toffee Nut and 1-3 pumps of sugar free caramel (take it with as few pumps as you can but still enjoy the drink).
Butterbeer Frappuccino: ask for a frappuccino (however you like it with your milks) with 1-3 pumps Toffee Nut syrup, 1-3 pumps sugar free caramel and 1-3 pumps sugar free Cinnamon Dolce. I always allow the whipped cream and salted caramel syrup on top.
Stevia Option
The simplest option for a truly sugar free Starbucks drink is to get any of their drinks you like with no syrups at all, then go inside, get one of their free Stevia packets, and stir it in (or take it home and stir in your own stevia).
Sugar Free and Starbucks too
It's not hard to continue your no to low sugar eating plan and enjoy a Starbucks once in a while. Just decide how much sugar or cheating you'll allow yourself, and try out these various options. Comment below if you have one you love the best.